This small group offers spiritual solutions for your struggles with Combat Trauma.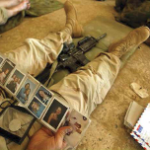 It combines the latest insights of the medical and counseling communities with the timeless principles of God's Word.
The reality of war is that everyone gets wounded. Some wounds heal rapidly, but some last for a lifetime. The reality is that the wounds of the heart, soul and spirit have a spiritual component that is not being adequately addressed. Despite the valiant efforts of many organizations and the commitment of billions of dollars to address these issues, there remains a serious gap ——The faith gap.
—-Major General (Retired) Robert F. Dees, U.S. Army, Executive Director, Military Ministry